You have to dream
to be a real team
Bangkok Team Building Program Menu
Below you will find our super selection of Bangkok Team Building Program Options organized by category. With 24 events to choose from, there is something for just about every group!
Most of the events are half-day (2-4 hr) affairs. Please click on any of the categories to get a general idea of what the programs entail, then let us know if you need more details or a quotation.

If you prefer to explore our Bangkok Options offline, you can download the PDF file here.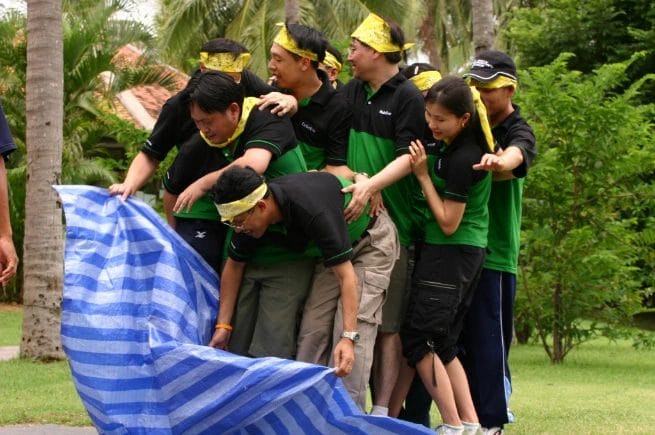 A)  DreamTeam Olympics




B)  Survivors




C)  Dragon Boat Racing




D)  DreamXtreme Challenge
E)  Chao Phraya River Rally




F)  Bangkok Discovery Challenge




G)  National Treasure Hunt


H)  Walkabout Adventure Bangkok

I)  Iron Chefs of Thailand
J)  The Big Picture
K)  Video Making Adventures
L)  Amazing Thai Cultural Challenge

M)  Team Recharge




N)  Domino Dynamics




O)  Weird Science


P)  Dancing with DreamTeam

Q)  Goodwill Games CSR




R)  Bangkok Discovery Rally




S)  Eco-Olympics CSR


T)  Bangkok Care Package CSR

U)  Meeting & Dinner Enhancers
V)  We are the Stars
W)  2 Minutes to Win It!
X)  Health & Well-being Sessions

Why DreamTeam Adventures?
• Awesome SAFETY record, it's paramount in all programs.
• Experienced, enthusiastic, English-speaking Facilitators.
• Excellent local knowledge.
• Effective programs based on sound training principles.
• Well-organized program logistics.
• Extensive team building program menu.
• Tailor-made events.
• Portable programs available throughout Thailand.
• Green and Eco-friendly.
• Prompt and personal customer care.
• High quality + reasonable rates = great value.
• Passionate about fun, learning, and adventure!